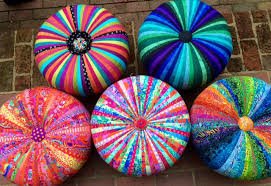 In two (3 hour) sessions you will create your own unique Tuffet! In Session 1 you will be sewing and learn the technique to make the foundation pieced Tuffet cover. As homework you will finish the Tuffet cover before Session 2 when we will put it all together. Tuffets can be whimsical, elegant, scrappy, or made to match any room. Every little girl needs a Tuffet, even grown up ones!
Robin, the instructor, will supply finishing kits the tools needed to finish the Tuffet.
PATTERN required: Tuffet Source Pattern (fusible interfacing included). Available from quilt shop.

FINISHING KIT: ($125) includes pre-drilled wood base, 18" round upholstery foam (with a 50lb ILD), Dacron upholstery batting, t-nuts, cording and button, 4 Bun feet – with 5/16" -18 hanger bolt already installed.
SUPPLIES: Please review supply list carefully. Available at the shop with paid registration
Supplies are denoted by "bullets". For supplies and pre-workshop homework pick up a supply list at Golden State quilting or contact Robin and she will send one to you. robin@kenzos.com or call her at 408-741-1766.
To maximize time in class come prepared as follows:
FUSE: Follow pattern instructions to fuse interfacing to muslin (top of page 2). Cut apart the 8 units and stack.
PRECUT: 32 (3"x21") fabric strips and arrange in your design order. For instance if you are doing a rainbow design pattern, cut 8 red, 8 orange, etc.
Lay out the stacks of color in the order you want to sew – a stack of 8 reds, a stack of 8 orange, etc.
It can be helpful to number them or snap a photo.