Waning summer days and Hot August nights, it's been very warm and summer is moving along quickly.
We hope you got to spend this summer season relaxing by the pool or beachside and reconnecting with friends and family after the long standing Covid pandemic. The new normal seems to be establishing itself everywhere. We are celebrating 1 year in our new location!!
Lately, so many new and returning customers have come by the shop and we are happy to welcome everyone in to share the fun and creativity that is our quilting passion.
Time is moving quickly so we'll dive right in to fill you in on what's new @goldenstatequilting.
JOY'S LABOR DAY QUILT RETREAT


Joy is returning for her Labor Day retreat (Sept 3rd, 4th, & 5th) and offering instruction on 4 different blocks/quilt patterns. This retreat is filling up quickly so reserve your spot now. https://www.gsquilting.com/module/class/463081/joys-labor-day-3-day-quilt-retreat

CHECK OUT OUR NEW BOM Programs

EMMA has arrived
Our newest arrival is Emma, a Block of the Month program using Anthology Fabrics in beautiful texture and shades of blues, creams, and greys. We have a few spots left in the program so reserve your BOM today.
Onward by Dan Morris, arrived just a few days ago.



These rich jewel tone colors are just gorgeous and make up into a stunning quilt. This beautiful BOM Program starts Sept. 1st.


Color Dance is a new kit by QT Fabrics in 2 intriguing color ways.




The BOLD colorway offers a rich variety of bright and intense summer colors, while the SHY colorway is more subdued, encouraging thoughts of a fall quilt project.



Color Dance is a perfect beginner's quilt, and great for the intermediate quilter. Learn to make half square triangles and flying geese, or sharpen your skills while making various sized blocks. Finished quilt kit is 58" x 64" and includes the fat quarter bundle, background and binding needed to complete the top. Kits are available at the shop.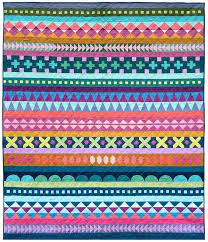 Keep an eye out for "Traverse", a block of the month program by Windham fabrics.
Our sample is hanging in the shop.
*The delivery date has been pushed to mid Sept. We will keep you posted.
The Traverse Block of the Month, available in the "Multi" colorway, is a take on traditional row by row quilts, with a modern look and a brilliant display of colors. The eye-catching palette from Tara Faughnan lives between harmony and discord, but always with a sweet, pleasing feel. Each kit will include enough Windham Artisan Cottons to make the quilt top (that's 14+ yards of fabric including brand new colors designed by Tara) as well as the 20+ page pattern which is exclusive to BOM participants!
Program availability and pricing on-line will be posted soon.
CLASSES & EVENTS

"Take Five" Beginning Quilting

September 29th, October 6th, Oct. 20th & Oct. 27th
1:00-3:30pm
Make your first quilt using the Five Framed pattern which uses five coordinating one yard fabric cuts (of your choice). Learn the quilting basics, including rotary cutting with a rotary cutter and mat, sewing a scant quarter inch seam, pressing, piecing the top, measuring and adding borders and have a finished quilt top ready for quilting by the end of class!
*Class pre-requisite: must know how to use your sewing machine.
Supply list will be available for pick-up at the shop.

Follow up Beginning Quilting with…

Beginning "Machine" Quilting
Sept 11th, Sept 25th, Oct 2nd, Oct 8th,
Come learn the basics of finishing your quilt on your domestic machine! Have you finished your first quilt top and are ready to learn to quilt it? Maybe you have a stack of quilt tops but haven't taken the leap into quilting them - come join us! In this four week class we'll start by talking about backing, batting, thread, and more. Then we'll learn how to prepare the layers, how to baste them together, and how to quilt many different designs with a walking foot. Finally, we'll learn how to finish your quilt with binding.

"Intro to paper piecing" returns!
Sept. 22nd 10:00 am

This class was so popular we've scheduled another session.
Curious about foundation paper piecing? Come learn the basic techniques by sewing your choice of a butterfly or moth from patterns by Lillyella Stitchery. The blocks finish at 5", perfect for using in a larger project with other 5" charms or as a quilt label!
You will be required to bring your sewing machine and have experience using it. This is not a beginner sewing class - it's a beginner paper piecing class! Click the link below to sign up!
https://www.gsquilting.com/module/class/454927/intro-to-paper-piecing


Collage Quilt Class - Laura Heine's Technique Sept. 17th
11:00am



Have you been intrigued by Laura Heine's delightful collage patterns?
Choose a small project (Teeny Tiny groups 1, 2 or 3 or others) and join Buff to learn Laura's technique!


Zipper Bag Class Saturday, November 5th
10:00am




Use several fun techniques to make this cute zipper bag with 2 1/2" squares. You can use mini-charms or cut up 5" charms or jelly roll strips. Straight-line quilting with your walking foot attaches the charm panel to the stabilizer and lining, and a zipper foot is used to install the zipper. Boxing the corners adds stability, while zigzag stitching finishes the seams. The free pattern is available on Modafabrics.com (Nantucket Mini-Charm Bag). Samples are available to view in the shop.

Triangle Frenzy Table runner-
November 12th, 10:30
BACK BY POPULAR DEMAND!
Join us for this Sixty Degree table runner or Tree skirt class using the 60 degree ruler.
This is a fun class using border print fabric to create an wonderful angled table runner or
even a Holiday tree skirt. Both styles will be taught. Samples will be available at the shop!

Mark your Calendars!


Quilter's Harvest Hop is Sept. 15th-17th
You are invited to join 11 of Northern California's premiere quilt shops for their annual Quilter's Harvest Hop! Share in the fun of the fall season by collecting a special "Farmers Market" themed
12" block pattern from each shop. Lots of fun and surprises. Don't forget your address labels to enter shop raffles along the way!



Pacific International Quilt Festival 2022

We are Celebrating Thirty-One Years
at the Pinnacle of the Art of Quilting in 2022!
Pacific International Quilt Festival XXXI!
Presented On-Site at the Santa Clara Convention Center, October 13-16, 2022
Join us as we celebrate the art of quilting. Officially recognized as Quilt Week in the city of Santa Clara, PIQF is proud to announce its thirty-first year! Whether you shop the aisles of the Merchant's Mall for the best fabric, learn a new technique in workshops taught by outstanding faculty, or admire the beauty of the artwork hanging in the quilt & wearable art competitions and special exhibits, be sure to take part in the excitement that is the Pacific International Quilt Festival.
We'll be at the same booth location this year!
Santa's Workshop @ Golden State Quilting Dec. 3rd
Hard to believe that there are just 18 Fridays until Christmas ;-).
Santa's Elves are already hard at work on fun and quick holiday gift ideas & other holiday goodies. Stay tuned for more details as we move closer to the Holiday Season.

Have fun quilting and enjoy the rest of the summer!
We look forward to seeing you soon at the shop!