Greetings all,
Here it is August and we find ourselves wondering, "Where has the time gone"?
Hard to believe we will be marking one year in our new location in just 3 weeks! We are still loving our well-lit space, our larger classroom, and the sounds of you gracing both.
We just wanted to send you a quick note with information on some of the latest projects at the Shop.

Joy's Labor Day Quilt Retreat- September 3rd, 4th & 5th
Joy's coming back for another retreat... Yay!!

Join us for some old favorites and some new quilt pattern adventures!
Joy Francois will be teaching how to make the blocks for four different quilts
during the three day retreat. Joy always provides fun and surprises for all!


Click the link below for more information and to register for the event!
https://www.gsquilting.com/module/class/463081/joys-labor-day-3-day-quilt-retreat

Our New Block of the Month, Emma has arrived!
Made with Beautiful Blue Anthology Fabrics Batiks, Emma is available as of August 1ST, 2022!
On a monthly basis you will receive the pattern as well as the fabrics needed to make the quilt blocks, borders, and binding. Our program will last 12 months and cost $23.99* per month.
Finished quilt size is 89" x 89" and the sample is hanging in the shop...and it is stunning! Sign up online or in the shop.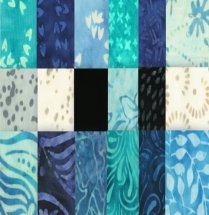 Click the link below to reserve yours now!
www.gsquilting.com/shop/Block-of-the-Month-Programs.htm


Our September Block of the Month "Traverse" by Windham Fabrics is due to arrive any day now.
The Traverse Block of the Month, available in the Multi color way is a take on a traditional row quilt with a modern look and a brilliant display of colors. The eye catching palettes from Tara Faughnan live between harmony and discord, but always with a sweet, pleasing feel. The Traverse BOM finishes at 72.5" x 85.5" and has the luxurious feel of Artisan solids.
Sign ups will be posted as soon as the fabric arrives in store.




We've received many new fabric arrivals including Halloween & Christmas fabrics, M & S Textiles Aboriginal prints, and Marcia Derse's new "Random Thoughts" collection. Many new kits and fun holiday projects are available as well, so come and see us soon!

We look forward to seeing you soon.

Thanks,
Sonja & Buff